Choir Students Set To Perform In New York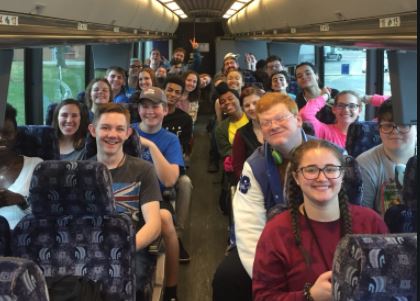 One only needs to pass by the choir room to feel the excitement that has been radiating for weeks; the choir students walk in and out in hurried excitement, and during rehearsals, many students are intently focused as they rehearse music they will debut far, far away from Kansas.
On Wednesday, April 11th, the Junction City High School choir program boarded charter buses and head towards the Big Apple to represent Junction City in the "Music of Eric Whitacre" performance in Lincoln Hall on April 15 in New York City.
"We do have a purpose for going to New York – we got invited to perform with Eric Whitacre… our purpose is to go sing with this composer, and we will be singing some of his music with himself as the director," senior Chloe Brass explained.
Eric Whitacre is most recognized for his "virtual choir" – a viral compilation of people singing online, combined to make one intricate piece, debuted in 2010. Since then, he has produced a plethora of works across all musical mediums – band, orchestra, and choir. His name buzzes across the music community, particularly of his works "Sleep" and "Lux Arumque," his most groundbreaking pieces.
Choir students are excited to see Whitacre in action.
"I plan on going into education, so looking at how you can teach without being in a typical classroom setting – we're going out and getting this grand experience with an amazing composer – it's going to be so much fun looking at the different ways of teaching people," junior Paige Smith said.
Singing with Eric Whitacre will not be the only adventure they embark on – they'll also be exposed to the academia New York has to offer.
"We're also taking a trip to New York University, one of the schools I'm thinking about going to…we're touring the vocal music [department]" sophomore Payton Tabb said.
Many senior choir students are looking forward to closing their chapter of high school choir in the city.
"I live in the choir room and the people in the choir are my family, so I think this will be a really good last Hoorah!" said Brass, who plans to study elementary education after high school.
Others are hoping to gain new experiences and first-hand observation of life in New York.
"I want to be a Broadway performer, so I'm hoping to gain a little knowledge about the city and what I'm getting myself into after High School," Tabb said.
The choir has been ready for this adventure for over a year – and have utilized their talents to pay for their expensive trip.
"Payton [Tabb] and I formulated a little bluegrass band and went around twice, and we collected a couple hundred from the places we performed," Brass said.
The weeklong trip is an exciting and unique opportunity for the choir students who have high hopes for their visit.
"I mean [meeting] Barbara Streisand would be cool…but I'm hoping we're able to get our originals signed by Eric Whitacre" exclaimed Brass.