JCHS Staff Member Competes on The Voice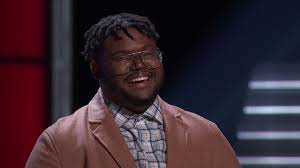 2006 Alumni and paraprofessional member Justin Aaron Black at Junction City High School is currently starring on the NBC show, The Voice. This show is a reality television singing competition starring Camila Cabello, Blake Shelton, John Legend, and Gwen Stefani, where hopeful artists from around the nation perform for these four coaches in hope of being chosen for their team in the competition. Junction City's community is watching every Monday night with excitement to watch their very own member, perform. While known as Mr. Black at the high school, his stage name is Justin Aaron.
Justin Aaron is a gospel and R&B singer from Junction City, where he has pursued his passion in music previously with a group called "Justin Aaron and the Royal Priesthood". He has been singing since he was little, and his inspiration came from watching his mother sing in concerts during his youth. The singer did not take music lessons, but instead participated in music classes from elementary school up until he graduated. He mentions his music teacher, Ms. Mary, a teacher that he had during all 12 years of school, when explaining his education through music. When asked about Ms. Mary, Black Says "she pulled greatness out of all of us, she would always challenge me to rise to the occasion."
Justin Aaron has now premiered in two episodes, where he has advanced into the third round after winning in the singing battles. He described his experience as "breathtakingly amazing" as he wakes up still shocked that his dreams have become a reality. He explained that he could not believe this opportunity that he was given and is beyond grateful. He encountered many amazing singers throughout the competition and is excited for those watching to see and appreciate them as well. He explained that during his audition, he was completely unaware that Gwen Stefani had turned her chair until he had finished singing his last note in the song. Afterwards, he was welcomed onto Stefani's team where he will continue to move forward throughout the season. It is unknown when Black will be seen on the show next, so continue to tune in every Monday night.