Staff Spotlight: Dana Weigand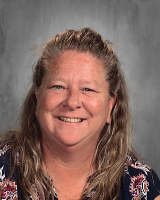 Dana Weigand is a Behavior Intervention Support Specialist. Her job in the school is to support students academically, mentally and physically. She finds ways to help students whether its involving parents, teachers or just a one-on-one conversation; she truly cares for each student. Weigand creates a big impact in the school through helping student reach their true potential.
Weigand makes sure that students know that she loves and cares for their wellbeing. She shared that a quote she lives by is "to be the best version of you, be yourself."
Weigand has faced her own adversity, but she also has advice to other people, especially the students, about what she suggests they should do when they face adversity.
"The best thing that you can do is get through your adversity with full effort. Adversity is what shapes who you are. There will always be adversity but you have to be the one to decide how you let it affect you," Weigand said.