Winter sports have successful seasons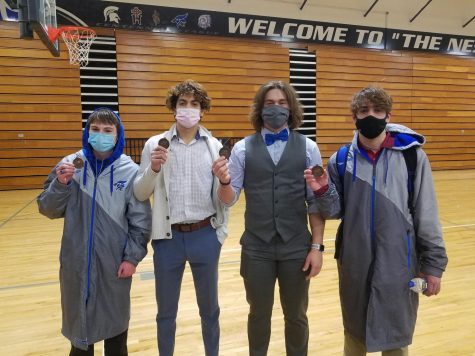 Amid the COVID-19 pandemic Junction City High School has managed to keep sports up and running. Throughout everything, our Blue Jays boys basketball team has still competed well each week. Posting a record of 6-6 up to this point which is a misguided record. This Blue Jay team has consistently played to the final buzzer in many games that resulted in late losses. Recently though, a big game emerged from the boys as they took down Manhattan one last time in Shenk gym. A few seniors were able to give some insight on the season.
"Its different knowing it's my last year but the team has helped by making it really fun. Beating Manhattan has always been a great feeling but this year it was different, I feel that was the best game we all played together, and it was an amazing feeling to be able to run on the court at the end and celebrate knowing it was the last time we would play those guys in Shenk," said Senior Austin Smith.
Following up, Smith also had some positive words for the high hopes he has for this team.
"I think we need to work on some things but I am sure that if we all play our best and play together, we have a great chance at being able to do something here that hasn't been done in a long time," Smith said.
Senior Chris Dixon then capped off the players interviews with some of his own comments on the Manhattan game.
"The feeling was something I've never felt before. We wanted that game badly, not only because it was our last time playing them in there, but for Coach Perez specifically. It was a high intensity and highly emotional setting and being able to finish that game off and celebrate with him was bittersweet. He deserves that game more than anyone," Dixon said.
In that game the key play was a block, made by Dixon, to seal the win and storm off victorious.
"I decided to try and block it because it was for the game; it was a tough decision considering that the was a lot of foul calls due to it being a physical game but once I did, I looked up at the scoreboard and the clock said 0. I just went crazy, I've never felt that excited about the end of a game before, it's a great memory we all can share and one I will never forget."
Not only is the boys' basketball team trending upwards. The girls have been moving in the right direction as of late too. Picking up a good total of five wins thus far which is a huge step forward thanks to the help of head coach Tim Testa, and his hard-working young ladies who want to make a change in the program. The Lady Jays in recent years have not been as successful but with the way last season went and how it has carried into this season, the girls team will be one to watch as they further improve in coming years.
The Lady Jays went on a hot streak earlier in the season winning three games in a row before slowing down a little bit to come to an ultimate 6-7 record late in the season. With league and the playoffs coming up, it's pretty safe to say the girls will be ready to compete.
One of the leaders of the team, senior point guard Lucy Rivera for the Lady Jays gave some great insight on this season and League coming up.
"This season has been exciting but tough. Getting a win early really gave us that confidence we needed, and it has soared from there. We've worked hard this season as we always have but it's had a different vibe this year; there's a mentality that we can beat anyone and its felt great to have that," Rivera said.
"The only thing that I feel has held us back a little is COVID obviously. We have had many games rescheduled which has forced us into back-to-back game days, and even three games a week, its been physically and mentally exhausting, but thankfully only four players have been quarantined so far," added Rivera.
It's clear she feels very strongly about her team and the chemistry and confidence that has been adapted by the girls this year, and that shows when asked about her teammates.
"It's been great, these girls are family. Even when we're frustrated on the court or teasing each other at practice, there is no tighter group; I love my team and my coaches," said Rivera.
That love has been far spread across the entire team on and off the court. Of course, being close and great teammates can especially help when it comes playoff time.
"I think we have a good shot at getting past the first round or even farther. The first round is the focus as of right now though; it's something that hasn't happened in a while. There are some really good teams in the mix, and we believe were one of them," Rivera added.
Another hardwood team we have here at JCHS has been a phenom consistently throughout the season. That team is the boys and girls bowling. The boys and girls have placed 1st and 2nd multiple times and have had many individual performances worth noting. Recently, juniors Brooke Swango and Olivia Oliver placed 3rd (Swango) and 2nd (Oliver). The girls team took 1st overall. The boys they took 1st overall as well. Boys bowlers Logan Lindsley and Carmine Mancinelli placed as well. Lindsley placed 2nd with a score of 658 and Mancinelli took home the 1st place bid with a score of 708.
Not just on the hardwood have the winter teams at JCHS been successful. Even in the water, the Blue Jays have found a way to spread their wings and swim their hearts out. The boys have qualified multiple swimmers for state, including senior Nate Green. Green swam all four years of his tenure here at JCHS and looks to make a run at it during state this week.
"My senior season has been fantastic. Time with the guys has been a blast so far; we won three meets which was great and having so many guys including myself make it to state was a great way to end the year," said Green.
Other swimmers that have made state for boys swim are senior Jordan Jenkins, junior Gabe Lamb, and freshman Creighton Sanner.