Students Honored at Academic Banquet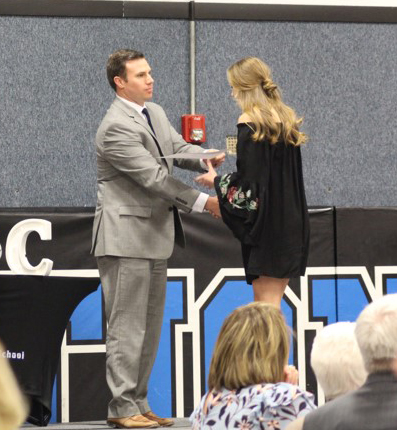 Hang on for a minute...we're trying to find some more stories you might like.
The Junction City High School Academic Banquet was held in Shenk Gym on Thursday, Feb. 1, to celebrate the success of students at the Career Academy Campus.
Students and their families who attended the banquet were provided a meal with entertainment from the performing arts students in the Fine Arts and Human Services Academy. Additionally, drawings for $250 scholarships would be given to one sophomore, one junior, and four seniors.
"This is important because as a student there are many times when you don't understand what it's all for," English teacher Lisa Torres said.  "So to get a little recognition and a little moment that tells you that you are special and that that hard work pays off someplace is an important thing to do"
The opportunity to win a scholarship is an added bonus of attending the academic banquet. Any opportunity to gain money to provide some support for college funds is worth the while for many students.
"When you go to college, money helps you. So then if you keep better grades, the better grades you have, the more money you can get for scholarships." senior Xavier Cason explained. "It is just great to have great grades."
Money was not the only motivation for maintaining positive grades. Students had their own personal reasons for wanting to achieve academically.
"What motivated me the most to keep my grades up would probably be me and my mom," explained senior, and Kansas Honor Scholar, Natalie Santa. "I motivated myself and she pushed me too."
Achieving a 3.5  grade-point -average to be invited to Junction City's academic banquet requires plenty of dedication.
"This took a lot of hard work,  and took pretty long nights," junior Thane McDaniel explained. "Thanks to my teachers for helping me because without them I could not have made it happen."
Being shown appreciation for the hard work required for excellent grades is an honorable moment. This academic banquet is held to do show appreciation of students dedicated to academic success.
"It is important to come to the banquet because you are being rewarded and you need to show up to receive that award out of respect," junior Kody Westerhaus acknowledged.
Being academically successful not only pay off in high school, it pays off in the future.
"Being academically successful is important to me because I want to be successful in life with my future," sophomore Ariana Perez explained.
The academic banquet is held to acknowledge the success of students. Being rewarded is an exceptional way to realize your full potential.
For English teacher Lisa Torres, students who did not attend the academic banquet are missing out. "I think they are missing an opportunity to shine, feel a little geeky, and have it be okay."