Girls Soccer Falls to Manhattan in Season Opener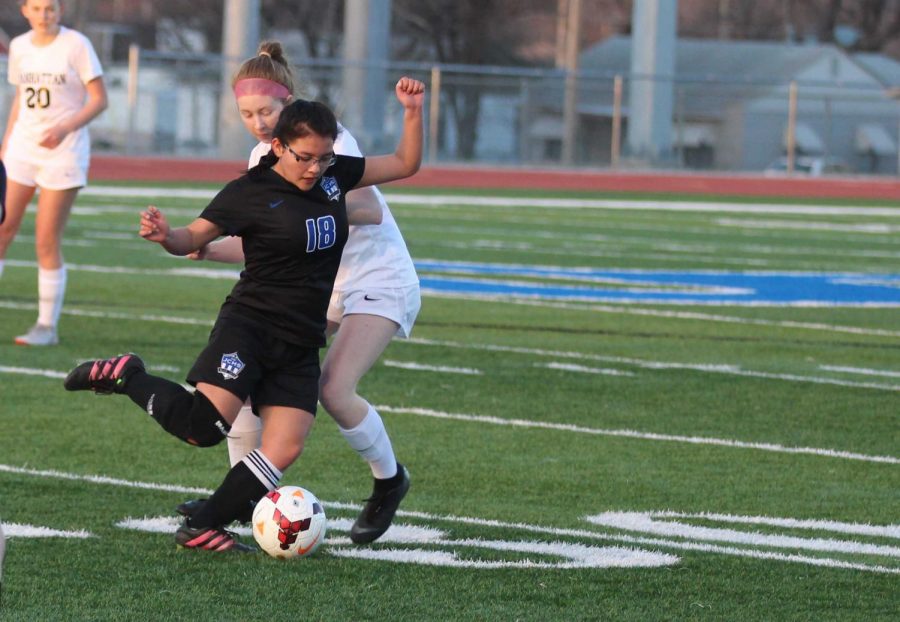 The Junction City Girls Soccer team opened the season against their rival, Manhattan High School, in a home game on Thursday, March 21. The junior varsity team lost 0-10, while the varsity team lost 0-9.  The varsity team played defense for the majority of the game, only letting Manhattan score 2 goals in the first period. Despite the tough losses, the team takes them with a grain of salt.
"Considering our current condition and what we've been doing so far, I think we did really good,"  said senior Katelyn Craft, one of the varsity team captains. "I think we had room to do even better, but we did amazing holding our ground and not letting Manhattan score ten goals on us."
Coach Dehoff admits that he was not pleased with the final score and felt many of Manhattan's shots could have been prevented, he was still very proud of the team he said.
"I am incredibly proud with the way we started the first half and the way we started the second half, keeping the game tight against an incredibly-an incredibly– good Manhattan team," Dehoff said. "Manhattan's going to be one of the best teams we will play all year and just to see the way we came out and fought against them tonight was good, and it will be good for us the rest of the season."
Despite the lopsided loss, the team had a positive outlook on the outcome of the game after even tougher losses the past few years.
"We were hoping for some goals tonight, but they [Manhattan] were hoping for a mercy rule and we took that away from them," senior Tamika Allen said optimistically.
Varsity's next game will be against the Classical School of Wichita played at Maize High School on March 26 at 6:30 p.m.