Pippin 2019: Merve Aksu and Dillon Powell Chosen as Student Directors
Hang on for a minute...we're trying to find some more stories you might like.
Behind every beautiful dance move, every aesthetically pleasing scene, every perfectly timed movement is an incredibly hard-working team of directors. When people watch shows, on screen or in real life, they always appreciate how well everything looks but often don't understand how much thought and effort goes into it all. They never realize that a really cool looking scene might have taken several weeks of painful planning, altering and practice to perfect. Putting on a show is a very difficult task for everyone involved and so it is up to the student directors to help out.
This year's spring musical production of Pippin will be stage managed by seniors, Charles (Dillon) Powell, Merve Aksu, and sophomore Elyse Nguyen. Because there is so much responsibility placed on the student directors it is important that they are ready to lead their peers and cast members.
"Organized, accountable, students who are consistent, positive and reliable. Those are the big qualities for me," said Micheal Brown, Choral Director,  about the qualities he looked for when choosing student directors.
"Absolutely," Annika Stuckey, Assistant Choral Director, added. " Accountability was a big thing —  and positivity. It's important for a student to be organized and to take initiative to get things done but to do it positively is really unique and helps the health of the show a lot."
The musical directors found the qualities in Aksu and Powell who have both been very involved with the musicals in previous years.  Aksu was a student director for the fall play production. This will be the first time Aksu and Powell's roles in the musical will be as student directors rather than cast members.
"I've been in two other shows before and I wanted to be able to be a part of the whole thing this time," Powell said, "I really like getting to know all the people in the show and being able to help out the directors."
Powell recently had surgery on his right arm so he was unable to be a cast member in this year's dance-heavy production that requires difficult choreography.
Aksu said she enjoys her role directing even more than she does performing.
"I wanted to try something different because I love acting and in the acting classes, I always see Mr. Hagemeister directing and it seemed really fun directing so I wanted to try it," Merve explained.
The role of a student director is to write out stage blocking, talk with missing students, make sure cast members are in the right places at the right time doing what they're supposed to do. Because the directors are always busy providing instruction during the musical it's up to the student directors to have everything they say written down to make changes later.
"The most difficult part is keeping everything, making sure you get everything done and then getting it done in the right way too for Mr. Brown, Mrs. Ritche, Mrs. Stucky, all the teachers, because it's important to have everything together for the actual musical," Aksu said.
The help of student directors is appreciated by the adult directors who have to focus on every detail of the performance.
"The tracking of what still needs to be done in the show is really helpful for us especially when we have multiple people directing the show," Stucky said, "that's huge to have that consistent piece with everything."
What is also unique about the production this year is that there are three student directors instead of the normal two.
"We didn't want to say no to other students who are talented and want to do a good job," Brown said, "we figured having three student directors who are supportive of each other and are willing to share the load and are not territorial, it makes it super easy."
"It was great kids that all wanted to do it that we knew would work well together," Stucky added. "So we let them."

About the Contributor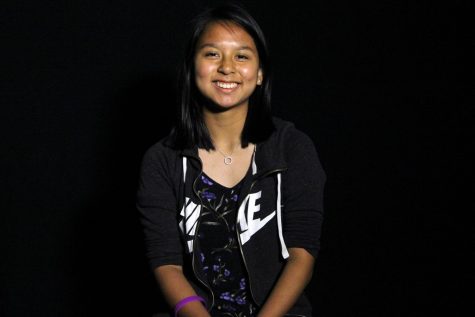 Elyse Nguyen, Staff Writer
Elyse Nguyen is a sophomore at Junction City High School and is 15 years old. She's been in the district since 1st grade and is currently the high school's...