ATHLETE SHOWCASE: Nathan Green
Nathan Green is a sophomore in his second year on the boys swim team. We sat down with him to talk about his experience on the swim team.
How long have you been swimming?
"I learned how to swim when I was 3 years old but I didn't really start competing till I was in 9th grade, I thought about doing it earlier but I just didn't have the time."
What took up your time?
"Really just school and other sports, and then baseball during the summer but once I stopped doing that I had more time so I could practice."
What do you like about doing swim?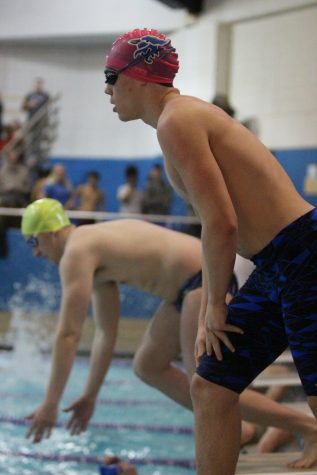 "Well I mean I get into really good shape and then I also love competing and it's not as stressful as track meets and stuff and I'm fairly good at it so."
Which events do you like and dislike? 
"I really like doing the butterfly, it's the one that Michael Phelps did, so its really challenging and you have to have a lot of endurance, but other than that it's fun and then I'm pretty good at it so I like that."
"I really hate doing the 500 meter, it's just so boring and I get exhausted. Coach puts me in it sometimes so it's not fun."
How does practice look like for these events?
"Really we start out with our warm-ups, so we a 500 of just different strokes to get our muscles warm and depending on the day we do kicks for freestyle. And then if it's a lane workout day, which means we do workouts based on what event you do, then we do a fly workout. So we can do pulls which is one arm, and we don't really get into sprints until towards the end and then that's when we do 25's, 50's, 100's, and it's just difficult."
What is your favorite memory about swim?
"Really when I first dropped on my butterfly, right now, it was like last week I got down to a 1:13 I looked at my coach and we went like this (fist pump) and it was just a happy moment all around."
The current school record is 00:53:52
What has been your best accomplishment in swim?
"Swimming the 1:13 on my fly, I'm the fastest on the swim team right now, but hopefully I can get other people to do fly during the swim team so we can grow and then so we all get fast so we can go to state this year."