Q&A: Varsity Volleyball Player Reece Boland
Senior Reece Boland is stepping up to become a team leader on this year's varsity volleyball team. Boland is a 3 year varsity player and we sat down to talk about this year's season and her experience playing volleyball.
What have you learned from upperclassmen in previous years?
"I learned how to celebrate because the older girls were very loud and hyper. It just taught you to celebrate every point no matter how small. They also taught me to have thicker skin because they were all very tough. But it ended up helping me because I was able to take more criticism because of them."
What are you hoping the team can accomplish this year?
"I hope that we get past the first round of sub-state this year. We have battled before but I feel like we can actually do it this year."
Do you plan on going to college for volleyball?
"I do plan on going to college for volleyball. I have gotten a few letters from school."
When did you start playing volleyball?
"I started playing volleyball when I was in third grade."
What position do you play in volleyball? What do you like about this position?
"I am a setter. I like this position because I get to touch the ball every single play. I am always in the action. The setter is the "boss" of the court so I get to run the plays and decide which hitter hits and where."
What responsibility do you feel on this team?
"The responsibility I feel on this team is the setter is the boss. I definitely carry the weight on my shoulders. If a hitter gets blocked it is not because of them it is because of me and my set. If the play did not work then it is on me. The responsibility is very heavy for a setter."
What is your favorite thing about volleyball?
"My favorite thing about volleyball is when you win a long rally. The rush of emotion and the excitement you get after that is just a great feeling."
How does playing volleyball make you feel? Why?
"Playing volleyball makes me feel excited. The adrenaline rush is very crazy, you get very excited over the little things."
What is your favorite memory during volleyball?
"My favorite memory is, last year at the tournament we won a long rally off of a weird play where we were very scrappy. We all got so excited and we ended up taking 2nd at that tournament which is really exciting."
What do you look forward to this season?
"I look forward to sub state and seeing us grow between then. Right now it is kind of rocky. But I look forward to seeing how we grow, and how we work together as a team to get out record better and win more games. I hope this season will go well. If we keep working and trying hard at practice we can pass the first round at sub state."
About the Contributors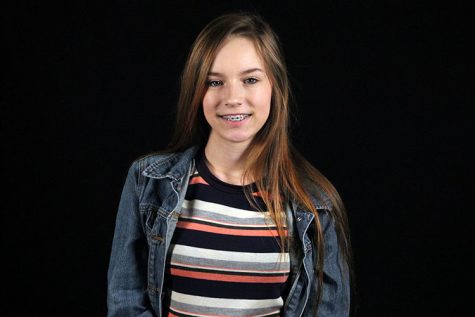 Taryn Tanguay, Staff Member
Taryn Tanguay is a Junior and this year will be her second year on the Blue Jay Online staff. In her spare time, she likes to listen to music, learn new...
Morgan Deering, Staff Editor
Morgan Deering is a senior at Junction City High School and this is her second year at the Blue Jay Online. In her spare time, she likes to read, write,...