5 Books Every Teen Should Read
1. The Hate U Give by Angie Thomas
Description: Sixteen-year-old Starr Carter moves between two worlds: the poor neighborhood where she lives and the fancy suburban prep school she attends. The uneasy balance between these worlds is shattered when Starr witnesses the fatal shooting of her childhood best friend Khalil at the hands of a police officer. Khalil was unarmed.
Soon afterward, his death is a national headline. Some are calling him a thug, maybe even a drug dealer and a gangbanger. Protesters are taking to the streets in Khalil's name. Some cops and the local drug lord try to intimidate Starr and her family. What everyone wants to know is: what really went down that night? And the only person alive who can answer that is Starr.
But what Starr does or does not say could upend her community. It could also endanger her life.
Why You Should Read It: This book has received a lot of praise and it is well deserved. The Hate U Give discusses the important social issues of modern society because in today's world, it has not become uncommon to hear stories of discrimination just like this one. Teens should read this book because these issues are real and many might find themselves able to relate to Starr.
2. Simon vs. the Homo Sapiens Agenda by Becky Albertalli
Description: Sixteen-year-old and not-so-openly gay Simon Spier prefers to save his drama for the school musical. But when an email falls into the wrong hands, his secret is at risk of being thrust into the spotlight. Now Simon is actually being blackmailed: if he doesn't play wingman for class clown Martin, his sexual identity will become everyone's business. Worse, the privacy of Blue, the pen name of the boy he's been emailing, will be compromised.
With some messy dynamics emerging in his once tight-knit group of friends, and his email correspondence with Blue growing more flirtatious every day, Simon's junior year has suddenly gotten all kinds of complicated. Now, change-averse Simon has to find a way to step out of his comfort zone before he's pushed out—without alienating his friends, compromising himself, or fumbling a shot at happiness with the most confusing, adorable guy he's never met.
Why You Should Read It: Made into a movie (Love Simon) earlier this year, this story has reached many people. Teens should read this book because it is a lighthearted teen romance with an LGBT protagonist, which is important considering how big the LGBT community is. For those LGBT readers, this book offers excellent representation.
3. Illuminae by Amie Kaufman and Jay Kristoff
Description: This morning, Kady thought breaking up with Ezra was the hardest thing she'd have to do. This afternoon, her planet was invaded.
The year is 2575, and two rival megacorporations are at war over a planet that's little more than an ice-covered speck at the edge of the universe. Too bad nobody thought to warn the people living on it. With enemy fire raining down on them, Kady and Ezra—who are barely even talking to each other—are forced to fight their way onto an evacuating fleet, with an enemy warship in hot pursuit.
But their problems are just getting started. A deadly plague has broken out and is mutating, with terrifying results; the fleet's AI, which should be protecting them, may actually be their enemy; and nobody in charge will say what's really going on. As Kady hacks into a tangled web of data to find the truth, it's clear only one person can help her bring it all to light: the ex-boyfriend she swore she'd never speak to again.
Why You Should Read It: This book is actually insane and one of my personal favorites of all time. The way it's written is also cool and unique because it is formatted like a case file, meaning that the story is told in a series of interviews, text conversations, emails, surveillance camera reports, etc. Teens should read this book because the protagonists are great role models. Kady and Ezra were only normal high schoolers before the attack on their planet happened but when disaster struck, they chose to step up and help out even though many of the adults doubted them. This story teaches teens like us that even though adults may not believe in you, you should believe in yourself and not be afraid to step up and do what they can't.
4. The Book Thief by Markus Zusak
Description: Narrated by Death, The Book Thief is the story of Liesel Meminger, a nine-year-old German girl who given up by her mother to live with Hans and Rosa Hubermann in the small town of Molching in 1939, shortly before World War II.
Why You Should Read It: This book is also on my favorites shelf because it is amazingly written. Told from the point of view of death, the story of Liesel is incredibly interesting. I read this book during middle school and I thought it was a good, but it was my second time reading it that I really loved it. It is a book you could definitely re-read multiple times and not get tired of because every time you read it, you pick up new things you might have missed earlier. I think everyone should read this book at some point in their lifetime because it is also one of those stories you never forget and its lessons stay with you.
5. The Hunger Games by Suzanne Collins
Description: The nation of Panem, formed from a post-apocalyptic North America, is a country that consists of a wealthy Capitol region surrounded by 12 poorer districts. Early in its history, a rebellion led by a 13th district against the Capitol resulted in its destruction and the creation of an annual televised event known as the Hunger Games. In punishment, and as a reminder of the power and grace of the Capitol, each district must yield one boy and one girl between the ages of 12 and 18 through a lottery system to participate in the games. The 'tributes' are chosen during the annual Reaping and are forced to fight to the death, leaving only one survivor to claim victory.
When 16-year-old Katniss's young sister, Prim, is selected as District 12's female representative, Katniss volunteers to take her place. She and her male counterpart Peeta, are pitted against bigger, stronger representatives, some of whom have trained for this their whole lives. , she sees it as a death sentence. But Katniss has been close to death before. For her, survival is second nature.
Why You Should Read It: Although the movie is more commonly known than the book, the book is just as great, if not even better. Teens should read this book because Katniss is an amazing role model. She lives in an oppressive society but stands up and aids in the revolution. Her story is inspiring because it shows teens that we have the power to change our own nations. This is especially important in today's society because with all the social injustice in the world, teens being able to come together and start movements is vital on our path to a better society.
About the Writer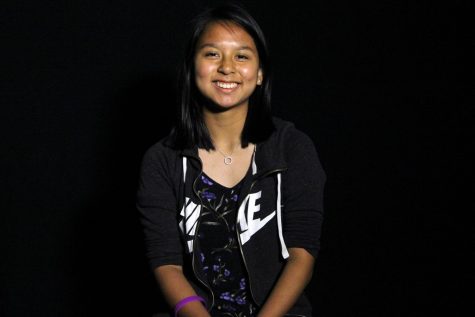 Elyse Nguyen, Staff Writer
Elyse Nguyen is a sophomore at Junction City High School and is 15 years old. She's been in the district since 1st grade and is currently the high school's...