Blue Jays Split With Heights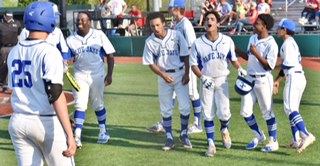 The Blue Jays traveled to Topeka to play the Thunderbirds on Tuesday. The game was originally scheduled as a home game but due to bad weather, Rathert Stadium was not in good condition.
Sophomore, Thane McDaniel got the nod for the bump the first game. The Blue Jays ended up winning 8-7. McDaniel struggled to find his control at the beginning of the game, but eventually got it under control. Thane hit his stride at just the right time.
The Thunderbirds and the Blue Jays traded blows through out the whole game. Bats were hot doing the entire game. The Blue Jays and Shawnee Heights both had their own big inning in which they scored at least 6 runs.
Thane McDaniel was relieved by Jensen Porter. Porter shut down the powerful line up of Shawnee Heights. Going in to the bottom of the 7th inning, the Blue Jays were down by one with one last chance to win the game. Senior, Jose Baquero started the inning off.
Baquero started the inning off the right way by finding his way onto second base. Next up was Tim Bell. Tim picked up right where Jose left off by hitting his own double. With this double, came the game tying RBI. Next up was Thane McDaniel. With a runner on second Thane hit a ground ball that seemed to be a for sure out. However, what happened next cost Shawnee the game.
A series of errors and miss throws from Heights resulted in Tim Bell scoring and winning the game. The Blue Jays walked off!
Charlie Peyla had the honor of starting the next game on the mound. The Blue Jays lost 6-10. Peyla struggled with control to begin with but eventually got in under control. Peyla pitched well but the Thunderbirds ended up scoring still. The Jays ended up putting together a rally and taking the lead.
After taking the lead, Porter came in to relieve once again. He had a great first inning that included no runs. The inning after that is where he struggled. With a runner on second and third, and 2 outs Porter managed to get a little ground ball right at him. Instead of throwing to first and ending the inning, he threw home. This caused a runner to score and for the inning to continue. The next pitch, a double was hit and more runs scored.
The Blue Jays could not recover from this inning and it resulted in a hard fought loss.
Junction City will play Topeka West at home on Friday in a special USO night. They will be wearing special uniforms and will help raise money for USO.